Photography as a hobby, a profession and more seems to have got distinctly split into two schools of thought today… the old timers from the film era who continue to believe in and vehemently support thoughts & concepts like purism (non editing of photographs) and superior image quality of film; and the younger, modern photographers who believe in doing what it takes to bring the 'wow' factor to their images, within certain boundaries ! Varied styles of thinking on a subject are usually healthy for the development of the subject matter itself, unless there is an utter lack of respect within the different schools of thought for each other. Sadly this clearly seems to be the case amongst photographers.
Yesterday, Mr.Gautam Rajadhyaksha, one of India's ace lensmen, passed away at his Mumbai residence at the age of 61. He was a heart patient and succumbed to a major heart-attack. The news came to me while I was attending a photography workshop and when it was announced, a two minute silence was observed in his respect. And then of course, the workshop continued as scheduled and not much was spoken regarding his sad demise. And there's nothing wrong with that. After all we hear such news of some well-known personality passing away almost every second day.. but life must and it does go on! To me however the news came as a bit of a shock that I am yet to get over. Its funny how we human beings can form a connection with someone when they touch our lives even momentarily. That exactly what happened with me
Barely a month back, I was called for an interview by the Symbiosis society. They are starting a school of photography and wanted to meet me w.r.t a teaching position at the school. When i appeared for the interview, I was told that the school was going to be headed by Mr.Gautam Rajadhyaksha and would have other big names from the world of photography also associated with it. Frankly, at the time, the name Gautam Rajadhyaksha meant nothing to me. It was simply a name I had heard somwhere vaguely in connection with photography. Nevertheless, after that first interview, i promptly went home and googled him. I was surprised to see that the net was flooded with information on him. This here, was a great man.. considered an ace bollywood photographer and responsible for introducing many of the now well-known stars to the industry. Celebrity photographers like Atul Kasbekar and Avinash Gowarikar considered him their Guru. I started finding out more about him. I asked around amongst my contemporaries and was hardly surprised to find little respect for him amongst them. After all he was a 60+ photographer having shot on film for most of his life and without having applied any of the modern artistic concepts to his photography. How could my contemporaries in their late 20's and early 30's find any respect for a man, when they thought they themselves could produce better work than him. Nevertheless, if there's one thing i've learnt from my father in particular and my upbringing in general, it is to try and see beyond what often meets the eye or is general opinion. My curiosity was by no means quelled by what my friends and colleagues said.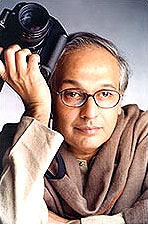 About a week later, i was called for a second interview, and was told that this time I would be interviewed by Mr.Rajadhyaksha himself. Having read all that I had about him, i was obviously a bit nervous when i appeared for the interview. And it didn't help that when i entered the interview room, there was a large oval shaped table, at one end of which I was asked to take a seat while at the other end sat about 10 panel members with Mr.Rajadhyakha in the centre. Nevertheless, one look at the man had an un-explainably calming effect on me. There he sat in his signature kurta and shawl around his shoulders with a smile on his face, a picture of calmness and pleasantness. I was also slightly amused to find that he was dressed and looked exactly like this picture of him (alongside) that I had seen so many of online. Not a hair was in a different place from the picture… it was as if the picture had been taken just 5 minutes before the interview. Anyway! Regardless of what the panel and himself genuinely thought of my work, the first words that he uttered were "we've seen your work and its quite impressive". That was it! All of a sudden, I felt like I was on familiar turf. Like I was at home talking to a near and dear one, rather than facing a panel of 10 who would decide whether I was worthy or not. Such was the tact, such was the aura of the man that he could put your mind at ease with just a  few words. And the dignified manner in which he spoke, gave you the impression that you were in the company of royalty, no less. I knew right away that if I wanted to work, learn and grow, I wanted it to be under his guidance. The rest of the interview passed and the outcome is not the subject matter of this post. Nevertheless, in a matter of merely 15 minutes, my life had been touched by Mr.Rajadhyaksha in a manner thats hard to forget. 
When news of his demise came yesterday i felt so many things all at once… a sense of loss, sadness, realization, disappointment and so much more. At first i couldn't understand why I was feeling the way I was. But now I do ! Regardless of whether anyone thinks you were great at what you did or not, you were undoubtedly and un-arguably a great man Mr.Rajadhyaksha. Rest In Peace. The world shall remember you for a long time to come.
In the words of Avinash Gowarikar "Gautam Rajadhyaksha's pictures were simple yet iconic"
---
You might also like